The Coat
The coat represents a symbol of the identity of a human being. It does this by following the architecture of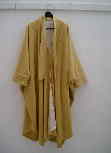 the body and at the same time possessing an inside and an outside, an intimate and an official appearance.
The inside is warming and protective, the outside observes the proprieties, it is also protective and keeps danger at bay. It is similar to the tents of the wandering nomads, it goes with us on our journeys and often accompanies us for a number of years.
One's own, individual coat, made of profane material which is marked by everyday use, is a well known companion defined by an ideal sense of value, its own history and a sense of belonging, the knowledge of which is often only familiar to its owner.
The coat is an expression of individualism and is the bearer of memories. In this way it creates a bridge between what is a private life and what is an official one.
The Tower
Cathedrals are seen as the symbol of the identity of a city.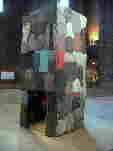 Their upwards stretching towers form a permanent part of the silhouette of a city and establish the outward appearance of such places.
They are an expression of cultural heritage. They shape the uniqueness and charisma of their location. In addition to their outward representation cathedrals also have an inward significance. They provide protection and refuge. They are a place of assembly and togetherness.
The inside of a cathedral is richly decorated. It creates the feeling of being a city in its own right in which one moves from one place to the other. The side chapels and transept are like the inside pockets and sleeves which are sewn into a coat, and at the same time they provide a place of retreat and are the teller of stories.
The Project
What kind of unwritten stories are there to be found within these fabrics? What do they tell us?


Are they strange or familiar, sad or happy, lonely or do they possess a sense of belonging?
People from Liverpool and Cologne have donated their old and well worn coats with all their individual stories and memories – unique specimens from both cities. The owners were prepared to donate these "coats full of memories" in order to give them the possibility of a new life. The shared journey of these "single pieces" has led to this art project. More than three hundred coats have been sewn together into one "skin". Two sculptures have been created: a "walk in" coat and a "walk in" tower. Both forms are linked to a spiritual body. The coat is connected to man and his physical body, the tower of the cathedral stretching up into the air is the space within which man is encased.
These sculptures relate the inner story of the individual, and open up a communicative spatial experience which leads beyond that of the individual.
Translation: Sybina Richter, Cologne